15. Tools Menu
Home > Manual > Tools Menu



The Tools Menu is intended for programs that are useful but not integral to the operation of DogBase.



Bet Calculator
The Bet Calculator is a program for calculating the cost of differant bets you may want to put together.

Selecting this option will display the following screen.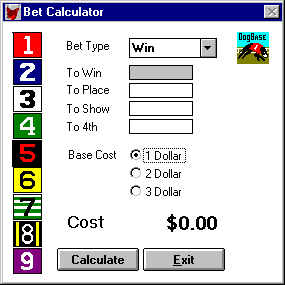 To use the Bet Calculator you must first choose the Bet Type you want to calculate and the Base Cost of the bet. Then enter the dogs numbers you want to bet in the To Win, To Place, To Show and To Fourth as needed. Then Press the Calculate Button and the computer will display the cost of the bet. Press Exit to leave the Bet Calculator.
Note: Putting an '*' in To Win, To Place, To Show or To Fourth fields will be replaced with the numbers 1 thru 8.

For Further Information:


To Questions@DogBase.com




Copyright © 2004 DogBase, Inc. All Rights Reserved.
Last Updated 01/26/2001