6. Registering your copy of DogBase




Before you are able to use DogBase you must input your registration information. You must first have your License Name, Start Date, Expire Date and License Number . These must be input EXACTLY as provided for DogBase to operate.
The Export Activation is not required, it is only used to activate the Export Add on feature. If you did not receive an export number just leave the field blank. Click the Finished button when you have completed entering the License Information. Once you have entered this information you will not see the Registration Information screen again.
Remember, by entering this information and activating DogBase, you are agreeing to the License Agreement .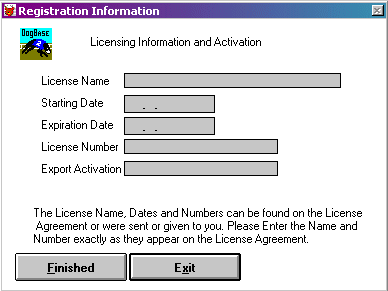 * License Name and License Number information can be acquired from DogBase by e-mail at Questions@DogBase.com or by Phone at 561-641-0030.
Note : If you received DogBase by mail, the License Information will be at the end of the License Agreement .


Return to the DogBase 2.0 Manual - Table of Contents
Copyright © 2001 DogBase, Inc. All Rights Reserved.
Last Updated 01/26/01