5. Installation & Upgrading
Home > Manual > Installation & Upgrading

Before you can use DogBase, you must run the DogBase Set Up program from Windows so that it will be installed properly on your computer.
Download Setup Files.
To download DogBase first goto our Homepage www.dogbase.com. From there goto our Trial Request and Download Page. Once on the Trial Request and Download Page. Fill out the Trial Request form and Submit the request. We will get back to you as soon as possible with the information needed to activate the program after it is installed. In the meantime you can download and install the software on your computer. Below the Trial Request is a link to download the DogBase Setup Files. Click on the link and you will be asked to save the file to disk. Go ahead and Save it to disk. After downloading is complete double click on the dbsetup file. This will start the Self Extracter program shown below.
Self Extractor


Once here, click on the Setup Button. This will run the Installation Program shown below.
Installation Program.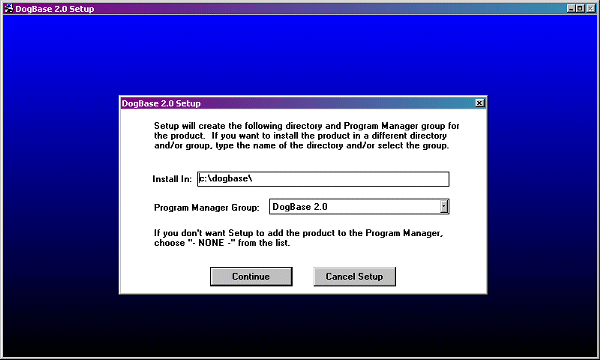 The set up program will display a screen (shown above) asking where the programs are to be placed. You may change this if you so desire. Also you can specify where the DogBase icon is to be placed. I recommend taking the defaults. Once finished Click Continue. A box will pop up and tell you how far the installation has advanced.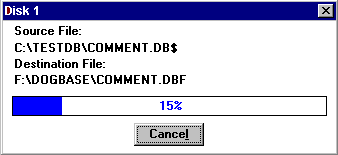 When the computer has finished installing DogBase, a box will pop up to inform you that Setup has completed successfully. At this point press the OK button.

This will return you to Windows. You will now have DogBase in your Start Button. Congratulations you have installed DogBase.
Updates to DogBase.
Updates to DogBase are periodically available. They are put out to fix problems that have come up, changes that have occurred with data providers and to release new features. A link will be provided in the message to the file containing the update. They will also be available on our DogBase Update Page. After you have downloaded the update to your hard drive, unzip the files contained in the zip file into your current DogBase directory. The next time you start up DogBase, the program will update the files as needed. This may take a while. When it comes back up, the update will have been applied. It is always a good idea to run a reorganize and a refresh system after installing a update. This will assure all changes will have been applied to the files. Further instructions, if any will be included in the message on the Forum.



Goto DogBase HomePage



For Further Information:


To Questions@DogBase.com




Copyright © 2004 DogBase, Inc. All Rights Reserved.
Last Updated 01/26/2001